I am so guilty of assigning random tasks that don't really fit with anything that came before and not much that comes after, just for the sake of giving students a chance to use technology. In past years the extent in tech integration has been, "Oh you finished early, why don't you type your poem as a next step."  I've witnessed classrooms with long lists of interactive games websites for students to play so they can have computer time, but im not guilty of this one. With that said I know many students enter the classroom with tons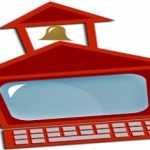 of tech skills. Technological advances are happening so quickly, I don't always have time to think clearly about the integration of technology. I usually end up just imposing technology on a lesson in a way that doesn't really make clear sense.
Last year I took the largest step of my career toward using technology in a way that facilitates learning. This change came when I was introduced the Edmodo app. This app helped me to give students more personalized guidance navigating the internet, a storage place for important links and files, a place to grade assignments and quizzes, and also to interact informally with students. The interface is much like Facebook. Students were able to interact and personalize their pages while under my watchful eye. This year we have a Chromebook cart available for classroom use. I am really looking forward to discovering how this technology enhances our classroom experience.
 My technology goal for this year is to create American history units of study using the Chromebooks and the Edmodo app as the students go to website for guiding their  internet experience. My goal is for students to discover how to manipulate the technology because they need it to engage in the learning. Now I need to set a timeline for myself to plan out units for geography, early Americans, explorers, colonies, and the American revolution. Wish me luck!