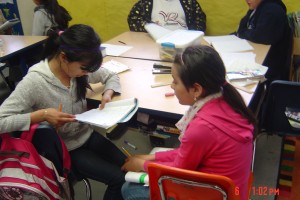 During the 2007-2008 school year my school site began looking at better ways to teach writing. I began the year looking at writing with fresh eyes. I was eager to help students set individual writing goals, check in on their writing progress through quick writes, as well as confer with students as regularly as possible. Initially my goals seemed practical and I tried to confer with every student weekly. However, as the demands of the school year increased and time became more and more of a scarce resource I became unable to regularly check in with students on their goals or confer with them at various stages of the writing process. But weekly my students continued to share their writing with one another in peer conferences with their writing partners.I began to look at this conversational space as a precious part of the writing process. The pair conference was the most routine and comprehensive conversation all my young writers participated in. I began thinking a lot about how to maximize each students ability to help their partner think about their writing. This question led me to my present inquiry: How can I facilitate effective peer writing conferences that include authentic dialogue and academic language?
The Purpose of this Research
The purpose for this research is to understand how my fifth grade students conduct a conversation about their own writing and that of their peers. This is particularly important to me because it is a space in the day where an academic conversation that requires the articulation of higher level thinking skills makes sense. It also provides a space where students have complete ownership of the content and the way it is presented,as it is their own stories they are discussing.